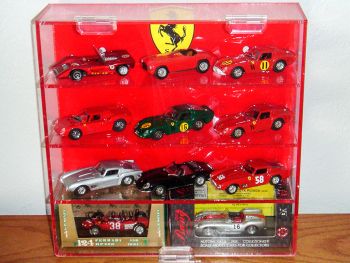 This case came with all but three of those Ferraris in it
I was quick on the EbAy trigger, and made a marvelous purchase
Three of the original contents were replaced by:


The racing car No. 8, upper left corner,
is especially rare, and
might be valuable
;
the lower left corner has
Phil Hill's signature on the box;
I'm at a loss to explain
the lower right corner
- it's not in my database.
Yes, it is: "Ferrari 250 TR Phil Hill Mugello"
The displaced cars
are merged into the other
164 Ferraris in my collection
(yes, one hundred sixty-four, plus the one not accounted for).