July 22, 2002: I have word from Dr. Michael Cornelison that the marquee sign was removed on or about July 17, 2002. It seems Lowe's, a national hardware chain, has begun construction of an outlet on the premises.

September 25, 2002: The Riverside Press-Enterprise reports there is coordination among enthusiasts and Moreno Valley City officials to the end of creating a Riverside International Raceway memorial in a city park and community center now under development. I have initiated correspondence with the city, hoping to be notified of completion and dedication dates, projected in the article as spring or summer, 2003.

September 27, 2002: I've been out of the loop until today. Richard "rdrcr" very kindly pointed me to the AtlasF1 Bulletin Board's The Nostalgia Forum, where there is a "Riverside Today" thread. There you can see the inception of a tribute to RIR, which through Richard's capable offices and a commitment by Moreno Valley officials will eventually result in an appropriate monument in a choice location. Go to the Forum and RIR thread to get the latest information and see an example of a projected design. Great news.

December 13, 2003: Jason Trew sent a message pointing out the final erasure of every last trace of the race track is now confirmed on GlobeXplorer. Click the "thumbnail" to see a 112K version of this aerial view dated March 3, 2003.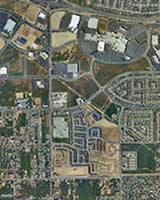 Click H E R E to learn about
the Monument project.

---
December 11, 2006: My sister Sandy and I visited the Moreno Valley Community Center, located near the (former) west entry to the (formerly) Champion bridge, site the anticipated monument and of a (purported) elaborate display of memorabilia dedicated to RIR memories. Yes, was there; no, it wasn't proportional to the former glory embodied in Riverside International Raceway and all it meant to the many participants and spectators.

I haven't been back to see if it's still on show, but I'd bet against it.