VEGA Kammback on the tracks - 2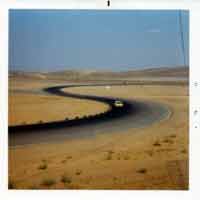 ©FLICKERPhoto.com
Looking eastish across Turn Seven, downhiller past the tires, flatter where the Wagon is. Visible to the left is the beginning of the Grand Prix Seven-Eight loop. The long straight is a little downhill from left to right, with an increase in the slope beginning a little past the Turn Seven merge point, somewhat south of where a worker's car is parked on the straight.

See a reverse view of Seven on an MGB GT page.

More Vega Kammback at RIR photos, scanned from the contact proofs from Dick Bame's print offer (click a pic for a larger view):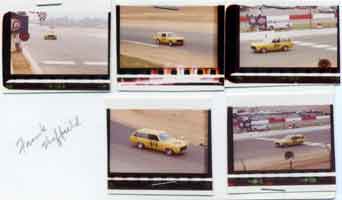 The lower right photo is a very interesting one from the perspective of an RIR orientation freak:
At the extreme top left is the Actual
Southwest Corner
Of The Firestone Garage.
Above the Yenko Corvair is the pavement formerly known as Turn 3 of the short oval.
At the extreme top right is the Actual Paddock/Pit Gate through which life at RIR proceeded.
Cool.
I found what seems to be a copy of a copy of results from a December 16-17, 1972 Cal Club Solo I Time Trial on the RIR Grand Prix course.




A veritable plethora of Riverside International Raceway pictures begins here: RIR PICTURES 1

To see video and frames from a lap of New RIR recorded on 8mm film,
click here: RIR PICTURES 8
RIR LAPS video

Turn 8, Ontario Motor Speedway. In the background is a barrier against which Swede Savage crashed heavily. He eventually ended his life at the 1973 Indianapolis 500. High up in the picture is the infamous Turn One wall (See Diagram). In between is the paddock, and just out of the frame is Margarita, aiming an 8mm camera. Later that day I mounted it in the wagon for a few laps. Another time I used a Super-8 camera in the Vega coupe. It's a real treat to take a lap or two around this now-defunct raceway. I'm not sure who took this monochrome picture. How soon we forget...

(A YEAR LATER: I found the original order form, with 35mm contact print attached. The photo was made by Thomas R. Izor of Montclair, California, on March 25 or 26, 1972. He got two bucks for an 8x10. Thank you, Thomas, I appreciate it.)
See some frames from the first OMS film here.
See the 8mm-converted-to-MP4 video here.