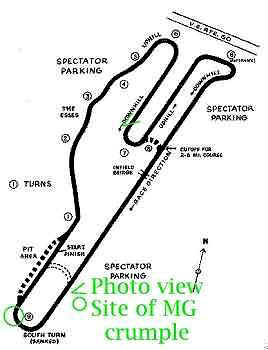 You can see the north-ish end of what I think was a 3/8ths mile paved oval, represented here by the southernmost dotted link between front and back straights. I'm still not sure they actually built the second connector between Turn 1 and the back straight to form a 5/8ths or so oval (it was a mile), but I'm now convinced at least one oval was used for racing.

The dotted pavement link was still there at the end of the 80s, used as pregrid and amateur team setup when the pros used up the garages and paddock. If the longer oval existed, it was obliterated when the pits and paddock were moved to the east side of the start-finish straight.
See some pages from a Midgets on the Road Course program

To see the original of this diagram, borrowed from
North American Motorsports Pages, click this text.