A good-for-me photo (from the R&T report on the last race of the Formula) that also shows something about the track: looking across the second half of Turn Six you can see that Turn Eight has a little uphill in the approach and a tiny crest near the apex tires before it goes downhill and then off-camber at some place around the stack of bales. See Moss lead Gurney through the transition from Eight to the straight, by clicking H E R E.

P. Hill follows Daigh in the Scarab following Jim Hall in his mongrel Lotus. In the distance, seen just above Hall's engine cover, is a squatting Turn Marshal: Your OBedient Servant.

On the other side of the mountain (San Jacinto, 3100+ meters) is Palm Springs. The short one is Mount Russell, 824 meters.

It appeared the "NASCAR road" that connected Six and Eight had not yet been built, and there was nothing other than skill keeping the drivers from going off the outside of the turn and down a steep slope.

On the basis of subsequent photos, I now believe my supposition about the NASCAR road not being in place in November, 1960, was a matter of the above photo not representing a significant difference between asphalt and desert dirt at the edge of Turn Eight.

Here's what that link looked like from Turn Eight, ten years later: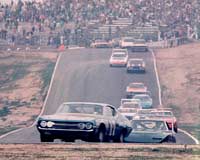 Photo: Mike Smith
Turn Six grandstand obscures the horizon and a row of pylons blocks entry to the Six-Seven straight, in case anyone was tempted.

Just out of the photo to the right, near California Highway 60, stood a marquee sign. It was probably not there at the time of the 1960 photo, but it was present even after demolition of the raceway was begun. I took a picture from the highway as we drove past. The high ground at the right is where Turn Six was. Hard to identify anything else. More drive-by sadness at RIR Requiem 2.

See more of Mike Smith's Riverside International Raceway and other racing photos at this Web site: Turbo's Racing Photos

At Tam's Old Race Car Site you will find some pictures of Riverside International Raceway as it appears today. Start at "What's new..."